Advertisers
Reach engaged audiences at scale with effective and fruitful video ad experiences. With access to inventory from hundreds of websites worldwide, our sophisticated targeting, and AI technology.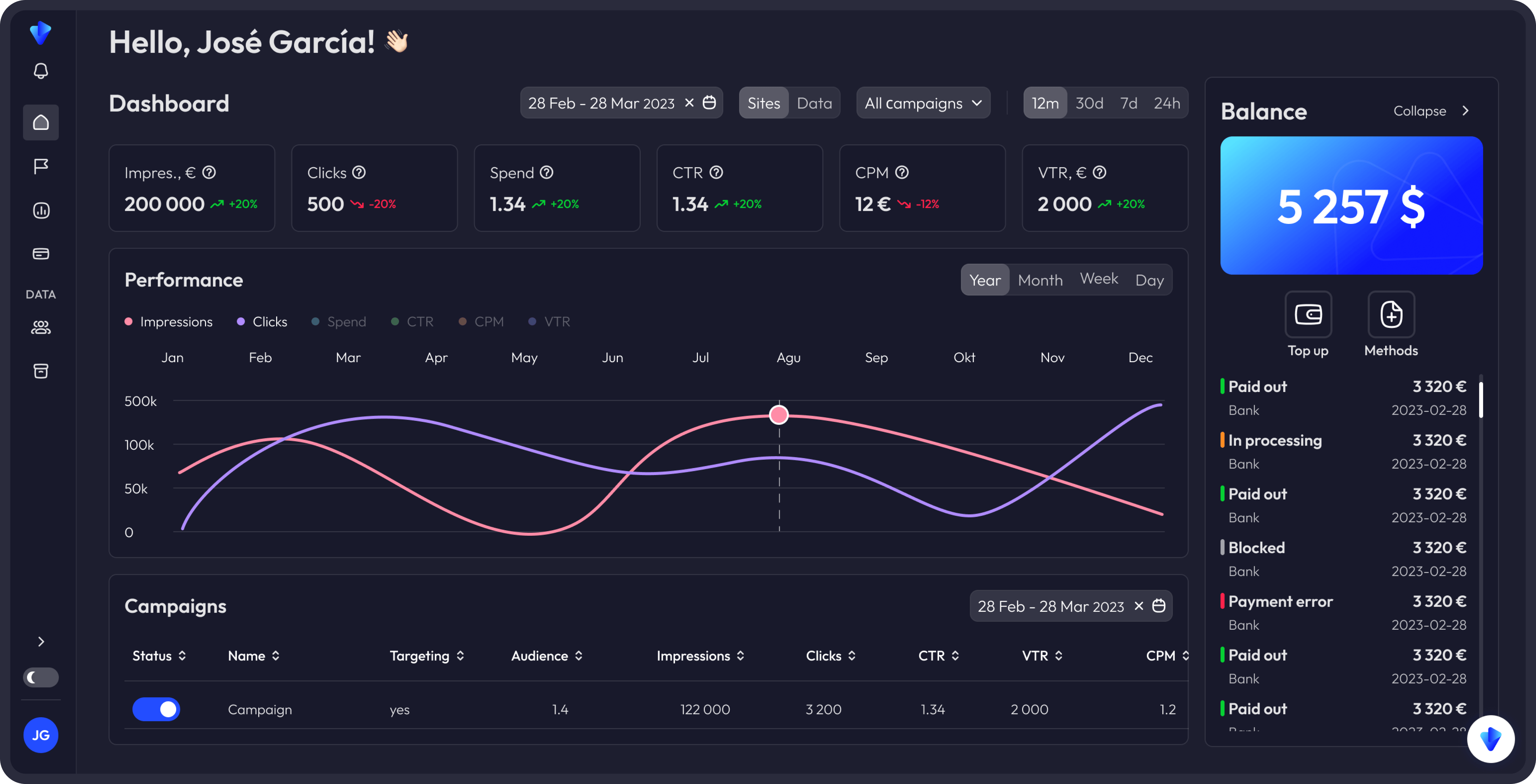 Ease of Integration
Thanks to our advanced technology and proprietary SSP server, we support a range of integration methods; oRTB, VAST, VPAID as well as user syncs, to allow for a seamless connection.
Support 24/7
With an appointed personal manager to manage, optimise and assist you throughout your partnership with VIADS, you'll have guidance at every step of the way.
Cross-device
Maximize your earnings effortlessly by showcasing your advertising campaigns across both desktop and mobile devices to a global audience, enhancing your brand's reach and potential engagement.
Targeting
Our AI video ad targeting quickly identifies your ideal audience, serving personalized ads that enhance engagement and increase potential conversions, thereby optimizing ROI.
Adapt your advertising to your target market
A user-friendly platform that lets you display video advertisements to users that actively engage with your brand. While optimising and managing the sites, you may see the advancement of the marketing strategy in real time.
Only high-quality traffic
Contrary to other partners who are referred to as "intermediaries" or "resellers", VIADS is a technology supplier; as such, we offer our JavaScript to be directly implemented on the website(s) of said publishers in the source or through GAM or another ad server.
Such inventory can only be purchased from VIADS because we work directly and exclusively with all of our publishers by providing them with the necessary technologies for monetisation.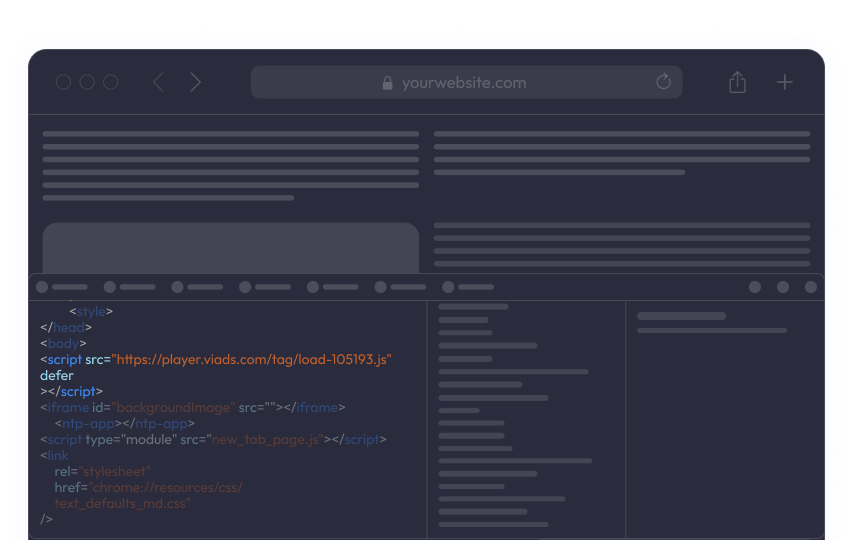 Proprietary player
In order to create its very own video player and exclusive SSP server, VIADS has devoted time and skill to these projects.
Our technology is sophisticated enough to present material from the website itself, which not only boosts user engagement but also encourages them to browse for longer periods of time, providing countless opportunities to showcase your advertising campaign.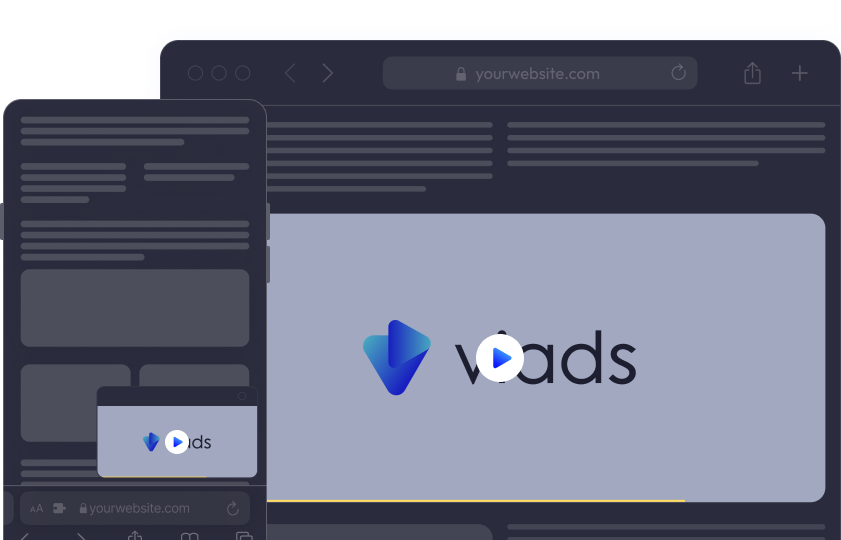 Ads.txt lines
In order to maintain total transparency with all of our partners across the advertising ecosystem, we ensure that we have a complete supply chain and always emphasise the importance of maintenance of the ads.txt file to our publishers.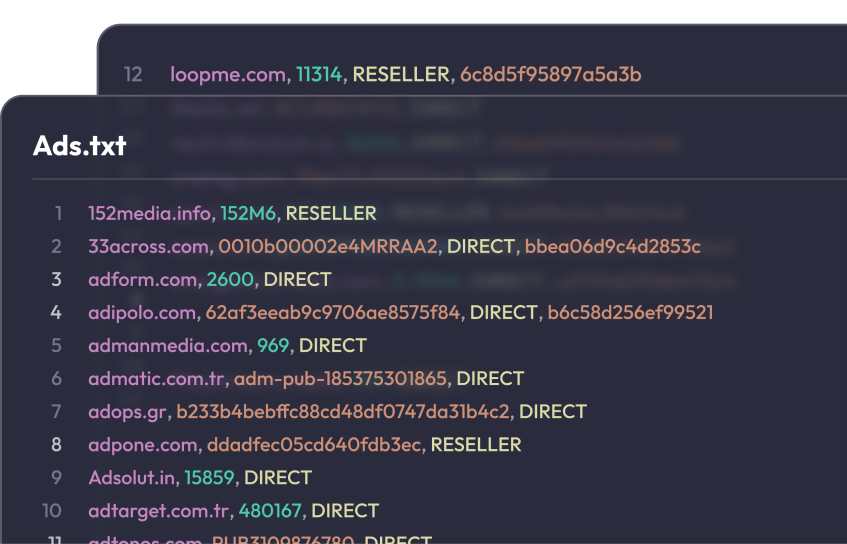 Brand Safety
VIADS presents digital advertisements in an expertly crafted manner that has carefully designed content and undergone rigorous editorial evaluation, utilising our sophisticated technology, such as the capacity to recognise key words & phrases, hate speech, etc.
We provide advertisers with precise tools for both brand fit & safety. Moreover, we work with some of the most discerning brands in the world to ensure that brand integrity is never compromised.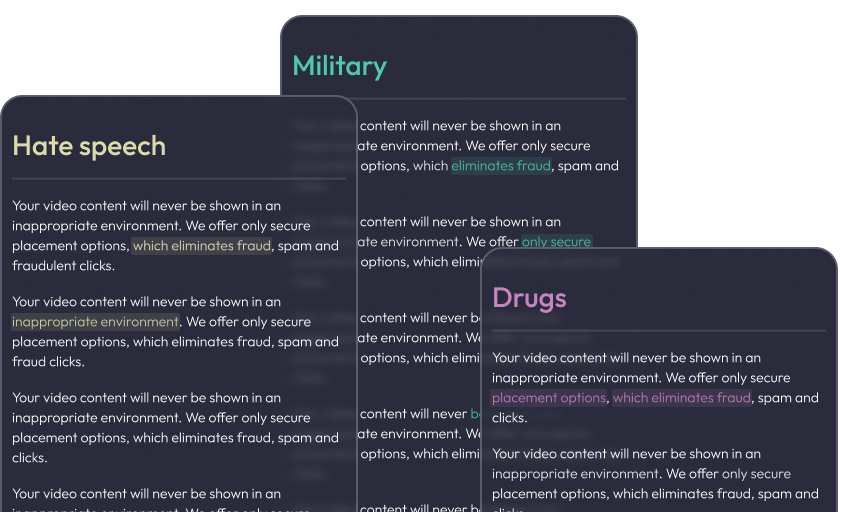 Artificial intelligence
VIADS' machine learning algorithms analyse user data to create tailored audience segments, enhancing ad relevance and conversion rates.
With our AI technology, we are able to continuously scan for a combination of partners in order to achieve the best possible results. We ensure your ads reach genuine audiences, and offer in-depth performance analytics for your campaign optimisation.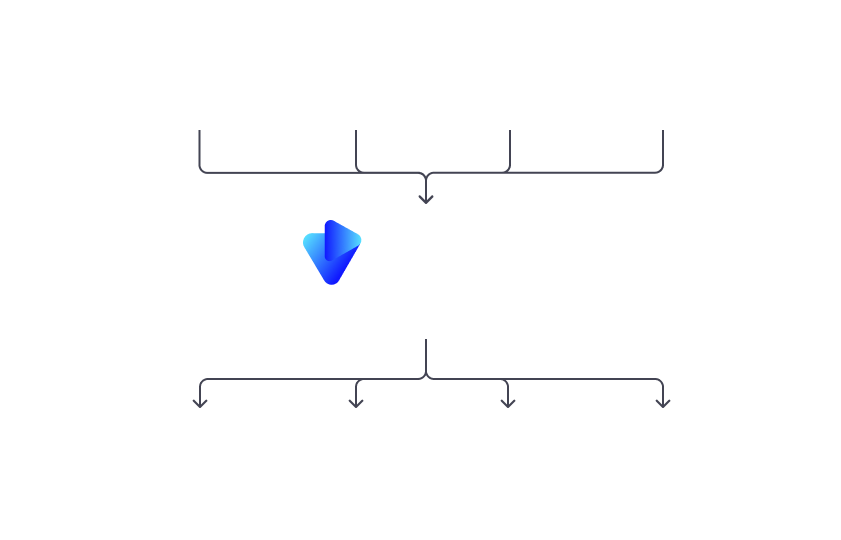 Premium channels for advertising
Equip yourself with the resources you need to raise awareness of your brand and differentiate your campaign. Our real-time bidding auctions bring together direct publishers and advertisers and provide infinite opportunities.
How it works?
The VIADS platform connects premium traffic with marketers. To improve video performance and gain immediate access to premium content, follow the actions listed below.
Targeting
You'll be set up with access to our easy-to-use dashboard whereby all campaign details can be added along with the desired targeting.
Approve
We'll collaborate to approve sites for the campaign based on the campaign criteria and develop a media strategy that assures a seamless connection.
Optimisation
Our dedication to maximising your campaign is a result of our love for digital advertising. Hence, we take care of the hard part for you!
Control & statistics
Of course, you continue to have complete control over the campaign and are free to make any necessary adjustments. Additionally, you will have access to a wide range of metrics on the advertiser's panel.
Profit
Global brand recognition will result in greater growth for your company, not only drawing users in but also enhancing their engagement and boosting sales.
Advertising tailored to your exact need
Make your content stand out. By leveraging data, our technological platform brings together your audience across screens.