Video Slider
One of the most profitable formats for publishers.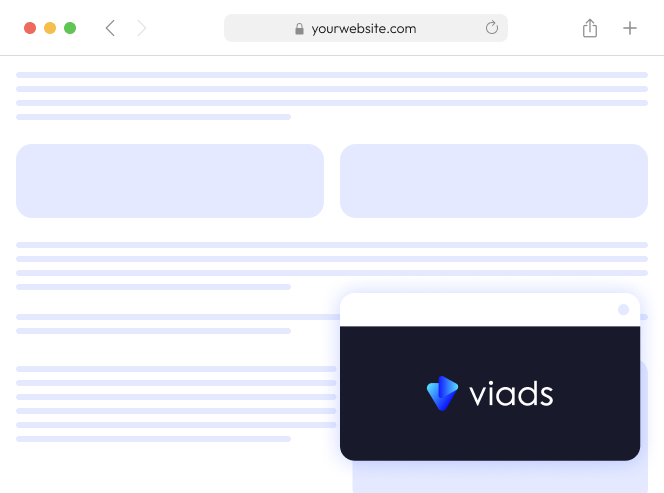 About the video slider
Characteristics:
Overlay Positioning:

Video slider appears as an overlay on a webpage, floating above the site's content and catching the viewer's attention more effectively compared to static banner ads.

Dynamic Placement:

Typical placement is in the corners of a webpage, can be moved around by users, offering a degree of control over their browsing experience. You will see a live example in the right corner of your screen.

Compact Design:

Video slider is designed to be compact, ensuring that it doesn't significantly obstruct the view of the webpage content.

Engaging Content:

Contains video content, which might involve promotional materials, product demonstrations, or other engaging content to capture user interest.
User Interaction:
User Controls:

Users have the ability to interact with the ad through various controls, such as play, pause, and mute options, allowing them to have some control over the ad experience.

Draggable:

It enables users to move the ad around the screen, potentially reducing the intrusiveness of the ad.

Clickable CTAs:

It features clickable calls-to-action (CTAs), encouraging users to engage with the advertisement further, leading to higher conversion rates.

Closeable Option:

To enhance user experience, viewers have the option to close the ad, providing a way to opt-out of the ad experience if desired.
Analytics and Tracking:
Impression Metrics:

Advertisers can monitor the performance of the ad by tracking the number of impressions, providing insight into the ad's visibility and reach.

Interaction Analytics:

Interaction metrics such as clicks, drags, or closes can be tracked to gauge user engagement and the overall performance of the ad.

Conversion Tracking:

Video slider comes equipped with tools to track conversions, allowing advertisers to measure the success of their campaigns and the return on their investment.
Compliance and Best Practices:
Privacy Compliance:

It adheres to privacy regulations, being transparent about data collection practices and offering options for users to opt-out if necessary.

Positive User Experience:

Striking a balance between capturing user attention and maintaining a positive user experience is crucial.

Creative Consistency:

Ensuring creative consistency with the brand image and message will enhance the effectiveness of the ad, promoting a cohesive brand experience.
Technical Aspects:
Responsive Layout:

Video slider is developed with a responsive layout, allowing it to adapt to various screen sizes and device types.

Optimized Loading Time:

It is optimised to load quickly, preventing delays which improves the user experience.

HTML5 and CSS Integration:

Employing technologies such as HTML5 and CSS for development ensures compatibility with modern browsers and facilitates smooth integration with web pages.